Synthetic Lover Demo
A downloadable visual novel for Windows, macOS, and Linux

Find us on social media: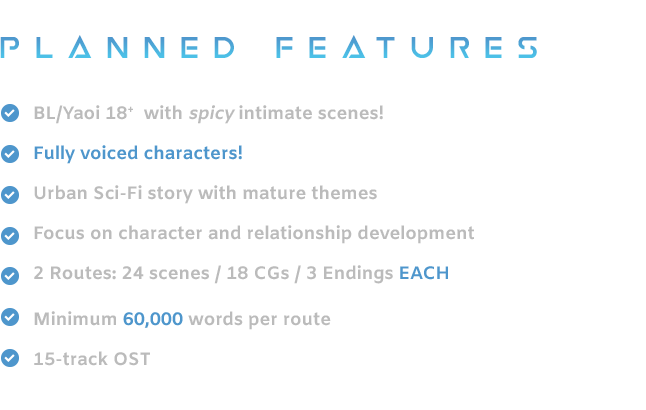 In the year of 2066, biologically engineered humanoids known as 'biots' make up a large percentage of the workforce.

The protagonist of Synthetic Lover is one such biot and, like the rest of his colleagues, he lives to serve a single purpose – to fulfil his pre-programmed vocation. In his case, that's to be a companion in an adult entertainment center known as Dollhouse.
Biots are servants who exist as lifeless dolls until being activated upon request, their self-awareness is sealed off by design, taking with it their ability to think or feel of their own free will… That's how the protagonist's days go until the chance appearance of an opportunistic thief with a mysterious device in his possession...
Synthetic Lover is a Sci-Fi story about an individual who, unwillingly, finds out what it's like to be human, to deal with hardships, overwhelming emotions, anxious thoughts, difficult situations and decisions and the imperfectness of life. It's a journey of discovery, finding connection with others, fostering friendships, attempting to remain aware and mindful in the face of adversity and, ultimately, finding love.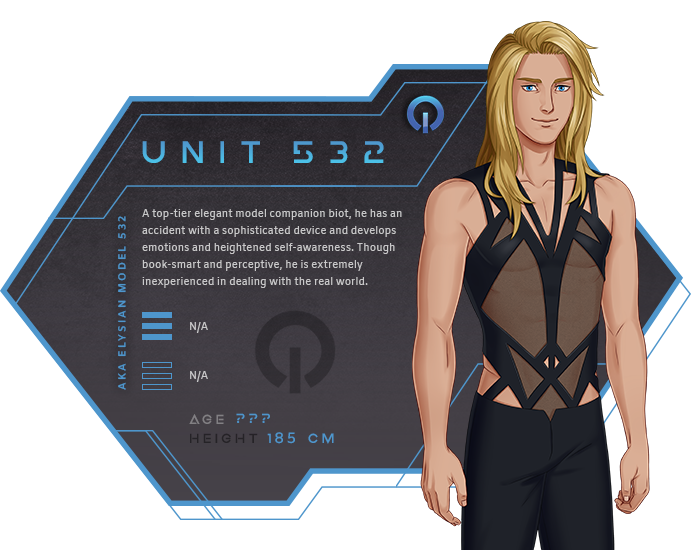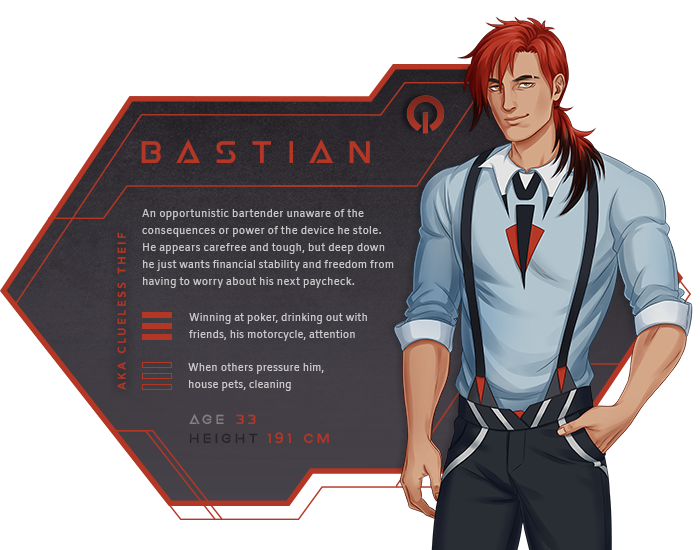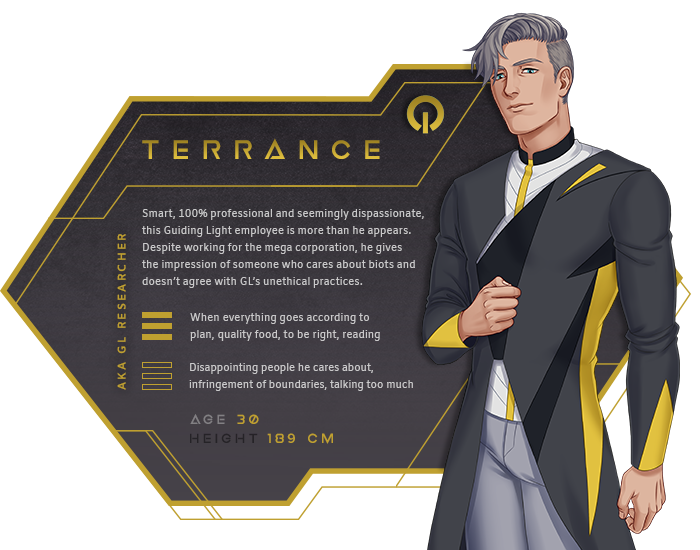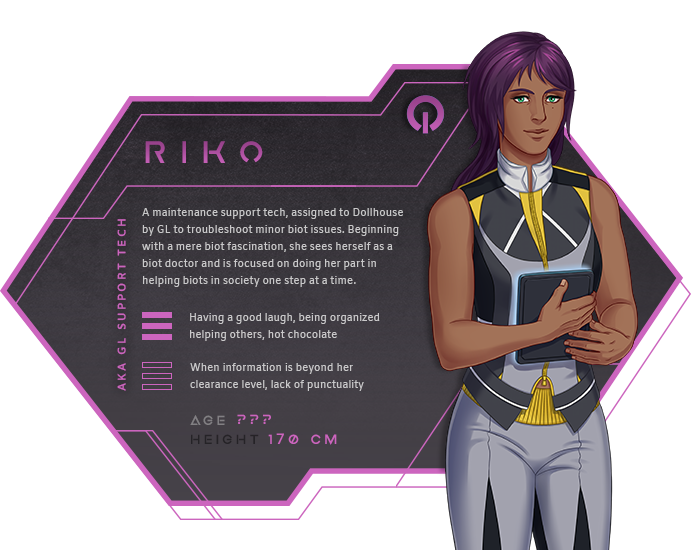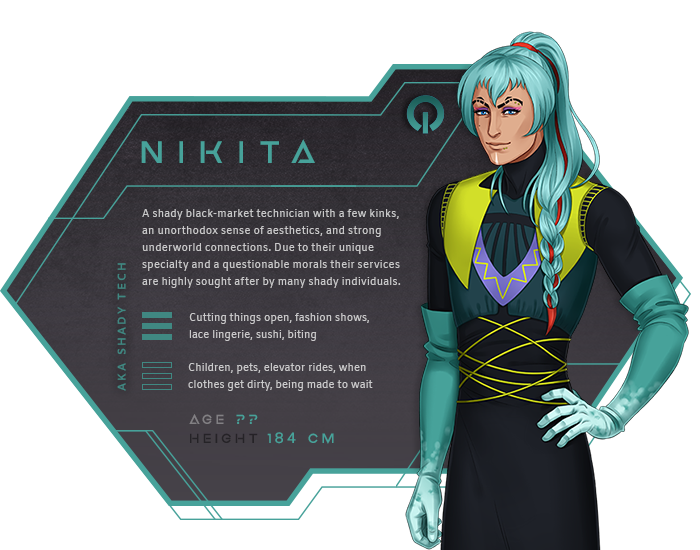 | | |
| --- | --- |
| Status | In development |
| Platforms | Windows, macOS, Linux |
| Rating | |
| Author | Knight of Hearts |
| Genre | Visual Novel |
| Tags | Dating Sim, Erotic, Gay, LGBT, Ludum Dare 44, Narrative, Romance, Sci-fi, Yaoi |
| Average session | About a half-hour |
| Languages | English |
| Inputs | Keyboard, Mouse |
| Links | Twitter, Blog, Homepage, Discord Server |
Install instructions
The Synthetic Lover Demo is SFW :P

If you are experiencing performance issues, please send us a description of your problem and system configuration (OS/memory/graphics…) and we will try to solve the problem.

Comments
Log in with itch.io to leave a comment.
So... is this still being worked on?
Hi, there! Yes, we're definitely still working on the game! Full version is scheduled to come out during the summer of 2021. Regular monthly updates are available on our Kickstarter page. You may also find updates on our Twitter! :)

wow.. you're here with SL! how could i miss this? lucky there's yaoiRecs :D
been ages since we "met" on DA, then i checked the lemmasoft page a coupla times.. glad you're on itch and funded! gonna play the demo, really looked forward to this for a long time, YAY! btw, are you gonna stay on itch only or try to get this on steam?
EDIT: now i've played the demo.. omgomgomg, it's even better than i thought! i knew it would be awesome from what i saw on lemmasoft.. but still, the demo blew my mind! can't wait until it comes out (hope you guys are all well btw, in these times...). this game is in my top 5 of best VN ever!

Congratulations on a successful campaign!😀
I literally only came across this as the kickstater finished and didn't get a chance to jump in on the pledge.😭
So I have to ask whether there will be a pre-order stage between now and the release for those that missed the kickstarter?
Thank you very much! We're super thrilled we got the needed funding! Sorry you missed it!

In terms of pre-order, at the moment it's still a bit too early to say, but we'll definitely look at our options once the dust settles and keep you posted.
Hey, congrats on the success of the Kickstarter! It was a last minute success, but a success non the less! I'm happy for you and I can't wait to have access to new beta builts now!
Thank you so much! <3 It was a crazy race against time but we are so glad the goals was reached! We're just about to catch our breath and embark on the next phase! We're one giant step closer to those beta builds now :) <3

Are you going to make an android version of this game?? Im just curious OwO
We definitely will at some point!
I really enjoyed this I can't wait for the full game!